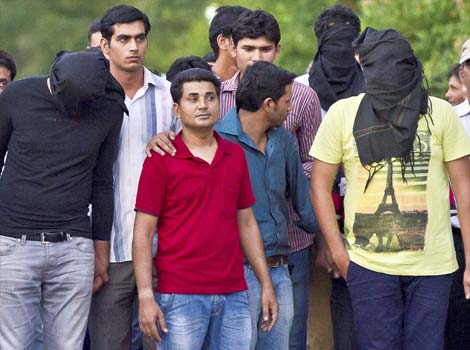 This is what it has come down to. Three players of the Rajasthan Royals, one of them played 27 Tests for India and is a 2-time world champion, standing amidst dodgy looking characters with their faces wrapped in black cloth. Delhi Police has said it arrested Sreesanth, Ajit Chandila and Ankeet Chavan for the alleged fulfilling of promises made to alleged bookmakers during the ongoing IPL tournament. The players were allegedly promised money ranging from US$36,000 to 109,000. A fourth, former Royals player Amit Singh, has also been arrested, for his role as bookie.
I am not sure the word "alleged" has sounded so weak before, with the kind of evidence the Delhi Police is said to have collected including audio recordings, phone calls, the signals, the overs, the runs. But it is still innocent until proven guilty.
However, the more important question to be asked is – what would make the players, especially one so enormously talented and with the potential of more India caps in the not so distant future as Sreesanth was, to go down this path of self-destruction? It's not like the cautionary tales of the recent past with the Pakistani trio in 2010 and TP Sudhindra and other 4 domestic Indian players from 2012 would have been lost on these players. In fact, ironically, Sreesanth had said that the situation that happened with Salman Butt, Mohammad Amir and Mohammad Asif would never happen with Indian cricketers "for sure" because they are "more educated" and "Most of the senior players talk to the youngsters, and [there is] much more education [about the issues of spot fixing]. Thanks to the Board and the management [Indians] are much more educated in that process." Oops.
Is it simply a question of greed? May be, may be not. A lot of us want to see a much bigger bank balance than we do have now, but it is hard to imagine people risking everything that they ever worked for, for a few dollars more.
After all, it took a sting by "News of the world" to expose the Pakistani cricketers and the India TV sting to out the Indian domestic players last year as well some umpires from the subcontinent. The players and the officials were meted out severe punishments, some with life bans. The deterrence of punishment alone isn't stopping the players from engaging in such shameless, shady deals.
Perhaps, it is the feeling of "I'm not going to be caught in the act. It is not going to happen to me. I'm much smarter than those guys who got set up in a sting. I'm much too clever for that." If this set of three players were to think that they weren't going to be caught, who is to say there aren't others who may have been thinking the same?
What have the BCCI and IPL have done since the situation last year to mitigate the threats posed by illegal bookies and spot fixing? If not for the work of Delhi Police, even this would not have come to light either. Sure, a cricket board does not have the same powers that law enforcement agencies do, in terms of taking steps to identify wrong doings but are they doing enough work to prevent such things from happening in the first place? Are they willing to accept that this problem is not going to go away and they have to constantly stay on the ball? The IPL has an Anti-Corruption Policy published on its website but what are the mechanisms available for a player to report improper approaches? Any tournament that promises to be a cash cow is going to have parasites sucking on its teats, in the name of agents, handlers and hangers on. What is the board doing about that?
As to cricket itself, with every such incident, the cancer of doubt will eat in to the collective psyche of its fans. Glorious uncertainties would take on a whole new meaning. Cricket, not very unlike our society itself, is tenuously held together by the notion that by and large, most people will do the right thing. When I leave my home, I lock my door so that no would break in. However, if someone really wanted to, there isn't much stopping them than a flimsy bolt. It is the general goodness of the people and the faith in society to not descend in to a free for all that is still keeping us together.
Next time I watch a cricket match, there would be a nagging feeling in a corner of my mind that what I am witnessing isn't really a sporting contest but that I think will be overwhelmed by the faith that most of the players will do the right thing.