To say Vernon Philander has stormed on to the Test match scene, looking at his record-breaking wicket-taking spree, would be a massive understatement. In his short career of 16 Tests so far, he has been mowing down batsmen so nonchalantly, it is as if he is picking up soup cans from the supermarket shelves, with a strike rate of 36.7 balls per wicket and at average of under 17. He already has 9 five-wicket hauls and has taken 10 wickets in a match twice.
Cheteshwar Pujara made a bright Test debut, after knocking on the doors of Test selection for a long time, hitting a no-nonsense 72 paving the way for an Indian victory. He was briefly waylaid by injuries but is now back with a bang, reeling off runs at an average 61.5, including 4 hundreds of which 2 were double tons. He has been more than a capable replacement for Rahul Dravid in the lineup, so much so that people don't even talk that much about what's been lost with Dravid's retirement.
Yet, when the accomplishments of these bright cricketers are discussed, one is accepted, and celebrated on face value without any qualifiers, while the other isn't.
When fans and pundits go rightfully gaga over Philander's mind-boggling numbers, there isn't usually a voice from the back of the room that says, "well, let's wait till we see how performs in the subcontinent before we anoint him as the second coming of Jesus, shall we?" However, as Pujara sets about his career, compiling the first thousand runs of possibly a dozen more, his the celebration of his achievements are tempered with "Let's see how he does when he goes on a full series to South Africa, and England and Australia." Even the man himself seems to think so.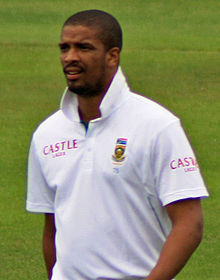 But out of the 10 Test playing nations, the prevalent pitch conditions can be broadly split in to two categories –Asian (India, Pakistan (UAE), Sri Lanka, Bangladesh, Zimbabwe and West Indies) and Non-Asian (England, Australia, New Zealand and South Africa). So who came up with the notion that players that generally play in Asian conditions need to prove themselves in the non-Asian conditions before they can truly be ascertained as a good cricketer? If anything, a player that generally plays in non-Asian conditions should prove himself in Asian conditions, because, after all, the majority of Tests playing nations (6 out of 10) have Asian conditions.
Sure, it is fine for a batsman to say that he wants to judge himself based on how he does in conditions alien to his cricketing backyard, but those performances shouldn't be the only barometer by which his achievements are evaluated by the fans and the analysts. While it is admirable that Pujara has set the bar for himself high, it doesn't really help Pujara or his team that he is held prisoner to that.
When Shikhar Dhawan bulldozed the Australians on his way to the fastest century by a debutant in Test history, the insta-punditry verdict was that, "We shall see if he can do this in South Africa." While Kyle Abbott sliced through the Pakistani batting line up in Centurion for a spectacular 7-fer, there weren't voices saying, "We shall see if he can do this in India." Why this double standard? If you are going to not give all the credit an Indian player deserves because you have doubts about his performance in alien conditions, why wouldn't the same yardstick be used for performances of a South African in his own home conditions?
Who gets to decide these things anyway? Historically speaking, England, Australia and South Africa have played Tests the longest and the notions of greatness have been handed down through generations of writers, reporters, fans and commentators from those nations. And so, it has come to be that to earn his stripes, a player has had to perform in front of these audiences, and this has seeped in to the cricketing subconscious of those following the sport in other countries as well.
In the modern times where following cricket across the globe is no longer through the words of reporters but through the pictures streaming across the 14" computer screens, the established notions of goodness and greatness of players don't really apply. Each player and his performances can stand on its own, without having to resort to the touchstone of tours to England, Australia etc. A player does not need the stamp of approval from the old guard. Getting your name on the Punjab Cricket Association's honors board ought to be equally as good as finding it on another board in the posh confines of St. John's Wood.
When Kevin Pietersen scored that magnificent 158 as the 2005 Ashes were winding down in favor of the home side, I do not remember reading opinions on the sport pages wondering how he will go in the subcontinent. The innings was celebrated for what it was and people savored with delight the baptism of a potentially great cricketing star in the international arena, and that rightfully so.
When MS Dhoni was asked about Pujara's comments after the Test at Hyderabad, he said, "I always believe in living in the present. Of course, he has set his standards but he needs to enjoy the moment." It would be helpful, not just for Pujara, but for the cricket fans and pundits to take a hint from Dhoni and enjoy the spectacle as it unfolds rather than ponder about standards that are at best dubious, as well.
I do believe Philander is a very good bowler. I do believe Pujara is a very good batsman. This isn't about their relative merits as cricketers. It is about us pushing our conventional cricket thinking, handed down through centuries, shaped by spread of the game through colonialism, on to those players and how they ought to be perceived. It is unfair that Pujara will have to jump through hoops before he is deemed to have unlocked the wizard level while the same may not be applied to Philander.