He has everything. He has accomplished everything a cricketer could reasonably aspire to. He has the world cup trophy in his cabinet he so coveted. His name is etched in as many batting records as the number of hundreds he has scored, if not more. He is worshiped by a nation of fanatic fans as a demigod. He has made more money than any cricketer, living or dead.
Why the hell is he holding on? Why didn't he just retire on a perfect high after the world cup victory? Why wouldn't he do the decent thing and quit playing cricket so that this paralysis can end and we – the fans – are left with an image of him unlike the pony-tailed Kapil Dev with a full on paunch dragging his carcass to get a record, and blocking the blossoming of a Srinath? Would his brand managers not let him go – is that it? Why?
—
Nearly 15 years ago, continents away, there was a perfect storybook ending. Game winning pull-up jumper in Game 6 of the NBA finals. Six championship rings. It couldn't have been any more perfect for the Greatest Basketball Player to ever grace the planet. And he called it a day. Score one for those that say an athlete should hang it up when he is on a high.
Yet, 3 years later, there he was, as a lumbering (it's all relative) 38-year old, in a league dominated by flashy superstars driving past his aging, creaky body, almost mocking His Airness. Dressed in the blue outfit of the Washington Wizards, not the legendary Chicago Bulls red that he made universally instantly recognizable, Michael Jordan was on his second comeback as a NBA professional.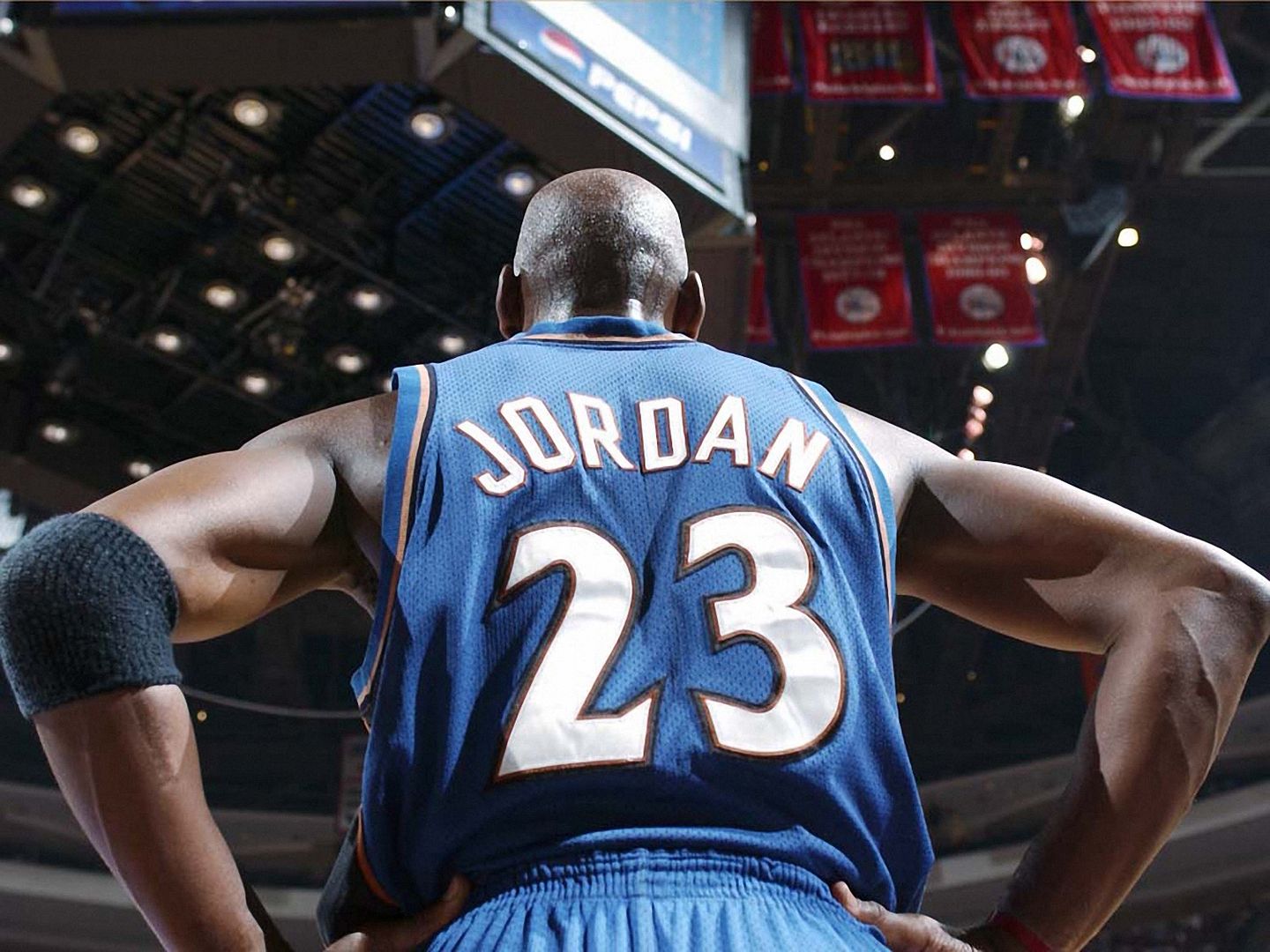 Jordan was considered the greatest not just because he had the most hang time, or he seemingly was able to summon at will the perfect arc to hit the "clutch" shots, or he won six titles. Any one that has ever played with him or against him, coached him, or been around him, readily acknowledges that he was maniacally competitive. Not just Basketball. Golf. Cards. Possibly even a fourth of July hot dog eating contest. He had to win. He needed to show you that he could. He just had to.
For someone known for his hyper-competitiveness, returning to the battlefield appearing human was rather an odd decision. He knew while announcing his comeback in a Wizards uniform that he was not the same old Jordan. He knew he wouldn't be able to hang with the Kobe Bryants and the Vince Carters of the league. He knew he might be risking his legacy. He knew.
Yet, he went ahead and did it anyway.
—
Bill Simmons of ESPN wrote in response to the hordes that wanted Jordan to stay retired as the announcement of the comeback was doing the rounds in 2001, "As fans, we cling to the past — almost to a fault — and when our heroes hang on past their primes, it provokes a curious level of condescension and disappointment. And yet few of us have ever achieved true greatness, so we couldn't possibly understand what it feels like to give up on your talents, to accept the effects of time, to walk away from something you love."
Jordan and Tendulkar, although supremely gifted, didn't come to be called as greats by achieving what was considered possible. The great ones always seem to be driven by more than what meets the eye. It isn't the numbers. It isn't just the championship banners. It isn't the legacy. It isn't the money or the fame. It is something more. There is always something more. It is about expanding the realm of possibilities. It is about making the impossible, possible.
See Tendulkar keeping a rampaging attack -and a stiff back – at bay holding a young team together to take them to the threshold; Answering every slight as another spur sticking in the backside; Responding with one of the finest stretches of his career when all and sundry wanted him to quit; Shelving a shot that fetched him runs in the thousands in a single-minded search of form; Seventy six of the hardest runs he has had to earn in his glorious career for us to see that he has still got it.
Another century is not going to add anything to the already overpopulated runs column of his. Another endorsement isn't going to add much to his already overflowing coffers. But just another day in India colors does give him another opportunity to test himself against the best the world has to offer. It does provide him the challenge to push himself to be ready with the late adjustment for that 90 mph searing reverse swinging Yorker.
It is the challenge of wearing the opposition down, one more time. It is the need to prove the doubters wrong, one more time. It is, for this ultimate cricket lifer, a challenge to his own self that he can. The challenge is the motivation.
Yet, the ultimate challenge to any human being is that of time. Time will conquer you. Time will ravage you. Time will, and does, have the final say. And so he soldiers on, battered and bruised, in a lonely, single-minded yet ultimately unwinnable struggle. To keep in check the inevitable surge of time itself is a challenge, a challenge worthy of the Great Man himself.
—
Credits:
Tendulkar photo source: Daily Mail
Jordan photo source: Photo Bucket