Chris Gayle is in the process of distilling the art of batting in Twenty20 to a science and he is very close to perfecting it. Take it easy upfront, see off the gun bowlers, get the eye in, and then, GO CRAZY.
He was putting in to practice the above-mentioned procedure during the 63rd match of this IPL season. At the end of the 14th over, Gayle was on 34, off 36 deliveries faced and Royal Challengers Bangalore placed at 89/1. And then, all hell broke loose.
At the 17.3 overs stage, Gayle had blistered his way from a more-sedate-than-usual start to 71 off 50 deliveries and RCB at 144/1. Gayle had just scored 37* runs off 14 deliveries, with Manpreet Gony bearing the brunt, mostly. The India U-19 star Sandeep Sharma, who had a wonderful IPL debut just a few days ago, was getting a first hand lesson that life is quite tough for a bowler in T20.
Sharma had very respectable 0-17 from his three overs, when he started the 18th over, his last over. A front foot no ball, 2 runs off the free hit, full toss deposited for four, and length ball disappearing over the sightscreen.
For the fourth ball of the over, he delivered a rank full toss on the leg stump, that batsmen with far less ability than Chris Gayle would nonchalantly put away for four, if not more. Surprisingly, in his haste to whack the ball in to oblivion, Gayle played across the line, swung hard but missed the ball, which thudded in to his pad, and rolled away for the batsmen to amble for a leg bye.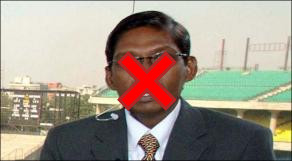 It is at this moment precisely that Laxman "Siva" Sivaramakrishnan dropped a nugget of incisive cricket observation that should go down in the history of awful commentating: "Very well bowled". Is he that blind that he cannot see a rank bad full toss on the leg stump from the basic conventional definition of "very well bowled"? Or has he entered some sort of agreement where he cannot see shit for shit, and call it just that – Shit?
He must be doing a really terrible job as an objective observer as he is supposed to be as a commentator, when even Craig "Macca" McMillan who was on air along with him at that time, called him out. "Really Siva? That was a poor full toss on the leg stump!" Macca himself deals quite a bit in hyperbole and talks things up in the IPL as if this is the best sporting exhibition, let alone cricket, there is. Even he had to take a pause to see how blatantly poor Siva was.
It must have been really surprising for Sivaramakrishnan to be corrected by another on-air commentator because it is not something that we have seen, at least, in the IPL, where uninformed opinion passes for fact quite regularly. (I'm looking at you Mr. Gavaskar).
When Macca corrected him, Siva jokingly responded, "Well, he got away with it!"
That's what it has come down to, isn't it? How much can you get away with? By the looks of it, Siva is getting away with murder, and we aren't even talking about the quality of play in the IPL.
It is that either Siva just doesn't possess the acumen to see things for what they are, or he is lying through his teeth to peddle a product of questionable quality. I sincerely hope it is not the latter but I think I know the truth here.
—
*- Corrected to 37 (instead of 47 as originally said). Thanks to the reader who pointed out the math error.