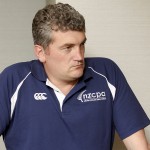 In this episode, the Chief Executive of New Zealand Cricket Player Association (NZCPA), Heath Mills, gives his thoughts on the controversy surrounding the election of Laxman Sivaramakrishnan as player representative on the ICC Cricket Committee, and the need for better governance of cricket from the ICC. He also discusses the hoopla around the removal of Ross Taylor as NZ captain, professional contracts awarded to NZ Women cricketers and also the Jesse Ryder situation.
Follow Heath on Twitter: @heathmmills
You can download the episode by clicking on the link here.
The podcast was first published on ESPN Cricinfo's The Cordon.
Subscribe to Couch Talk podcast on iTunes.
CouchTalk is also available on TuneIn Radio and select episodes on the YouTube Channel (ccTV).
Enjoy.
Credits:
Intro Music: Sampled, Mixed and Produced by Aravind Murali
Guest: Heath Mills
Host: Subash Jayaraman
Episode transcribed by: Bharathram Pattabiraman