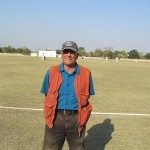 In this episode, Peter Chismon from the U.K. talks about his travels around the world following cricket. Peter has watched First Class cricket in 56 Test venues since he started this pilgrimage in 1994. He talks about how he got hooked on to this, various experiences, the dos and don'ts of global travel, and how long he intends to continue with his passion.
You can download the episode by clicking on the link here.
Subscribe to Couch Talk podcast on iTunes.
CouchTalk is also available on TuneIn Radio and on the YouTube Channel (ccTV).
Enjoy. The podcast was first published on ESPN Cricinfo's The Cordon.
Credits:
Intro Music: Sampled, Mixed and Produced by Aravind Murali
Guest: Peter Chismon
Host: Subash Jayaraman
Episode transcribed by: Bharathram Pattabiraman
Photo Source: ESPN cricinfo