Benefit of the doubt – it's an omnipresent strand in the fabric of cricket. There is an unwritten rule in cricket that the benefit of the doubt goes to the batsman. However, an underlying basis in it is that the batsman has to earn it. If a batsman is hit on the pad, on the subsequent appeal for LBW, the umpire might rule in favor of the batsman. That is, if he is playing a shot. If there isn't an attempt to play the shot and the batsman is just padding the ball away, as many ex-cricketers on air are quick to point out, "Well, he hasn't offered a shot and so the umpire is more inclined to give the batsman out". The key, then, is that the benefit of doubt has to be earned.
Ajinkya Rahane had to wait for his turn to don the Indian whites. He has quite an impressive First Class record – he is 9th in the list of players with highest FC averages with 60.7, with Cheteshwar Pujara just one spot behind him. He has represented India in ODIs and T20s but people that have reported on him and watched him play for Mumbai, have maintained that his game is more suited to Tests.
And so it happened, with the loss of opener Shikhar Dhawan due to a hand injury, he got his chance against a team that had already lost the series, at home in conditions familiar to him, during the 4th Test of the India-Australia series. It was rumored that he wasn't too inclined to make his debut as an opener – whether that is true, no one knows – and so he walked in without the number 278 under the BCCI crest on his chest as India were 148/3. With 7 runs to his name, he walked back gloving the ball to leg slip. As far as debut innings go, it was nothing to write home about. He could be excused that he was playing on a raging Bunsen.
His second turn to bat came under a lot less pressure with India coasting towards the victory target of 155 runs, with Pujara (playing as makeshift opener so Rahane didn't have to) and Virat Kohli having already put on more than 100 runs for the 2nd wicket. There was a mini-wobble as India went from 123/1 to 127/3. All Rahane had to do was to just hang around, collect a few singles and admire Pujara batting with a glorious 50 to his name, from the other end, and see through the job at hand.
Instead, off the 5th ball he faced, Rahane ran down the pitch to Glenn Maxwell, tried to hit the delivery out of the ground, and in the process, didn't even get to the pitch of the ball and managed only to scoop it to Nathan Lyon running in from the boundary, leaving India at 128/4. Laxman Sivaramakrishnan who was on air at that time, said "I can't believe he's played such a shot. Unbelievable… He has let his side down and let himself down."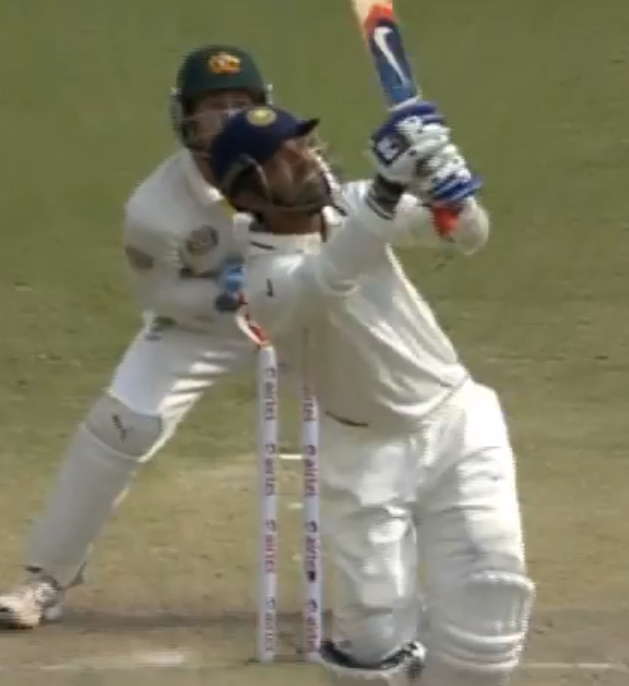 Test cricket is a weird beast. It makes players do strange things. Highly skillful players are made to look silly. It could be the pressure of the situation. It could be the expectations of the thousands watching at the stadium and the millions on TV. It could be the other players breathing down your neck, waiting for their chance to put on the national colors. People who succeed in Tests, that go on to have very good careers, need to be made of sterner stuff to overcome the adversities and the inner challenges. It isn't for no reason it is called "Test".  At this level, every player is almost equally gifted and as the cliché goes, blessed with "oodles of talent". It is about the six inches between the ears.
There were a few on Twitterverse that opined immediately that Rahane should not be in the Test squad, for the foreseeable future, just for playing this shot. Some offered in response that one shouldn't react so dramatically, and Rahane should be persisted with, and should be on the squad to South Africa later this year.
It was Damien Martyn no less, a batsman described as a "cricketer [who], Tendulkar aside, made batting look so simple" that was dropped from the Australian team for playing an injudicious shot in Australia's dramatic loss to South Africa at Sydney in 1994. It took another six long years before he would be back in the Australian Test XI.
India had already won the series. Pujara was navigating the side uncomplicatedly and decisively to an uneventful victory in a dead rubber. So, there wasn't the pressure of the situation that Rahane had to contend with. Fans probably did not have much expectations of him either, with only 28 runs to get. And yet, there he was, handing another Test wicket to Maxwell on a platter.
If you cannot recognize the demands of you as a batsman and bat accordingly, especially in such a pressure-free situation, how is one expected to trust you to come through in a lot more taxing situations? There is Badrinath who is still waiting for another chance to play for his country, who scored a 50 on debut but only got to bat another 2 more times, plowing his way through Ranji Trophy. There is Manoj Tiwary who has given company to Rahane on the bench at various times. There is Rohit Sharma who people maintain is more suited for the longest format. Not to forget, Badrinath, Tiwary and Sharma are all in the Top 15 of the highest FC averages of all time.
Rahane could not have accomplished anything with the bat in the 2nd innings that would have enhanced his reputation and credentials as a Test batsman, but he could do things to damage it, and that, he did. Now, is it possible to give him the benefit of the doubt? Has he earned it? The short answer is "No".